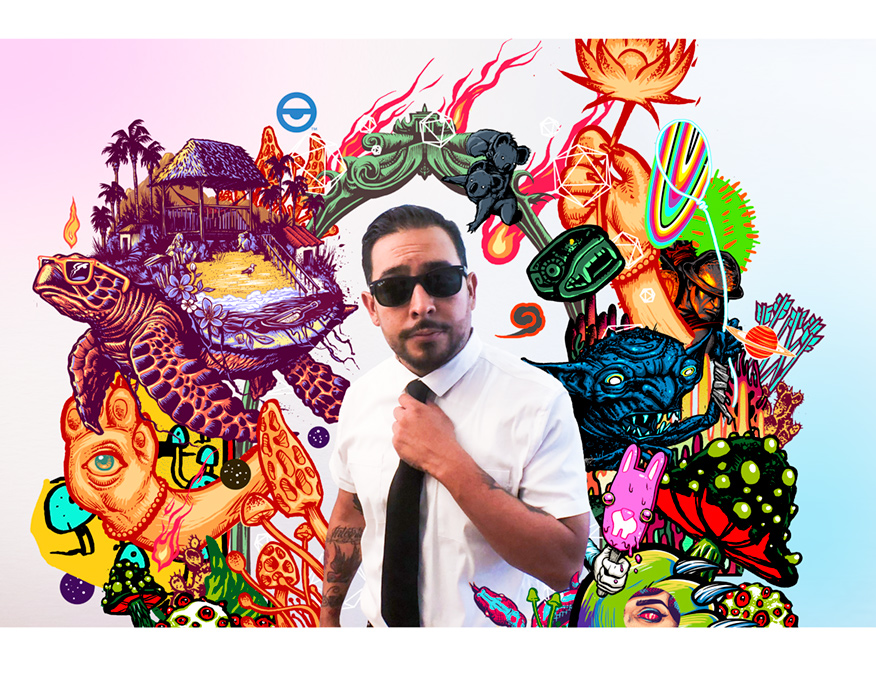 MUNK ONE
Los Angeles, CA 
   A versatile creator, his career began in merchandise and shirt design where he enjoyed creating works for major musical acts. He then moved into Fine art painting exhibitions in galleries. Large Murals, album covers, tattoos, custom toy art and NFT's. Even art for a the official Snoop Dogg sticker app. Proficient in both traditional mediums and digital, he is comfortable using whatever methods his projects may call for. He was featured in Juxtapoz Art Magazine issue #96. In 2008 he created a striking portrait of then Presidential candidate Barack Obama which was used as prints, stickers, t-shirts and also ran at bus stops all over the state of Pennsylvania. During his time as Juxtapoz Magazine editorial illustrator, he produced poignant works concerning current affairs and politics. 
These days, he focuses his talent on limited edition screen-printed gig posters, an endeavor which really took off when the band Pearl Jam graciously introduced his art to the print world in 2009. Since then he has gone on to create many iconic print designs.
He is also owner and creative director Invisible Industries LLC., who's company divisions include a design agency (Kintsugi media) as well as the main shop (Invisible Industries) where you can find his creations alongside other great works. The brand released a design by international artist Chin Tangerine in support of artist Ai WeiWei's release at the time. Other projects have helped raised money for critically endangered species.
Outside of art he enjoys: Spending time with friends and family, loud music, good coffee, absurdity, and hiking with his Xoloitzcuintli. 
Munk has created works for:
311, Angels and Airwaves, Avenged Sevenfold, Alexisonfire, Bad Religion, Billy Strings, Blink- 182, Bruno Mars, Bullet for my Valentine, City and Colour, Chris Cornell, Coheed and Cambria, Dave Matthews band, Deadmau5, Disturbed, Dirty Heads, Eminem, Eric Church, Escape The Fate, Eddie Vedder, Foo Fighters, Gary Clark Jr., Grateful Dead, Green day, Guns and Roses, Head Automatica, Hatsune Miku, Henry Rollins, HIM, Korn, Limp Bizkit, Mastodon, Metallica, Meek Mill, My Chemical Romance, Nirvana, No Doubt, Pixies, Paul McCartney, Pearl Jam, P.O.D., Puscifer, Primus, Puddle of Mudd, Queens of the stone Age, Queensryche, Red Hot Chili Peppers, Skrillex, Slipknot, Snoop Dogg, Soundgarden, Sublime with Rome, Smashing Pumpkins, Sevendust, Strong Arm Steady, Tame Impala, Tenacious D, Travis Barker, The Used, The Offspring, The Black Keys, Volbeat, Widespread Panic, Warner Bros. Records, Creature Skateboards, Intelligentsia Coffee, Upper Playground, Tribal Gear, DCMA, True love & False Idols, Juxtapoz Art Magazine, Ohana festival, Affliction, The X- files, The Hundreds, and many more.
INTERVIEWS:
November 2020 Metallica The so what Interview
https://www.metallica.com/so-what-article/2020-11-23-at-one-with-his-art.html
December 2017 Artist Waves Interview
https://artistwaves.com/munk-one-the-art-of-making-concert-posters/
March 2011 Crewchro Interview
http://crewchro.blogspot.com/2012/03/munk-one-us.html
May 2011 Indigits
http://www.indigits.net/2011/05/munk-one/
August 2010 The Hundreds Chronicles
http://thehundreds.com/blog/chronicles/munk-oneartist/
Jan 2010 The Citrus Report Interview
http://www.thecitrusreport.com/2010/features/munk-one/
Sep 09 Truth & Rights Volume Interview
http://truthandrights.org/volume/galleries/las-finest-munkone/
Sep 09 Where Eagles Dare Interview
http://xwhereeaglesdarex.wordpress.com/interview-munk-one/
August 09 Optimum Wound Interview
http://www.optimumwound.com/munk-one-interview-with-a-renaissance-man.htm
April 09 Format Magazine Interview
http://www.formatmag.com/art/munk-one/
Feb 09 Juxtapoz Magazine Online Interview
http://www.juxtapoz.com/Features/20-questions-with-munk-one

August 08. Two page ad in Juxtapoz Art Magazine Sept 2008.
Sep 2008 The Obama Art Report Interview
http://www.obamaartreport.com/2008/09/10-questions-with-munk-one_08.html
Sep 07 Upper Playground Blog Interview
http://upperplaygroundglobal.blogspot.com/2007/09/11-questions-with-munk-one.html
July 07 LCS Interview
http://thelittlechimpsociety.com/theape/lcs-interview-munk-one/

August 17 2007 From the L.A. Weekly."B-Side Players' new CD, Fire in the Youth (Concord), would be worth getting if only for Munk One's fabulously surreal cover art."
To read the whole review click HERE.
PAST EXHIBITIONS:
2011 Quentin vs Coen: Group Show NYC
2011 Everything but the Kitschen Sync: La Luz De Jesus Annual Group Show Hollywood CA
2011 SAS x Munk One HVW8 Gallery Los Angeles CA
2011 The Road to Shermer: A tribute to John Hughes Gallery 1988, Venice, CA
2010 Blood Sweat and Art: Los Angeles CA
2010 10Club Rock & Art Poster Convention Seattle WA
2010 Sea No Evil: Group Show Riverside CA
2010 Manifest Equality: Group Show Los Angeles CA
2010 Inglourious Basterds Benefit -Lost Art of the Film: Poster Show L.A. CA
2010 G40 the Summit: Group Show Arlington VA
2010 Bic Buddy Customs Show LA and NYC
2010 Blackbook Sessions 8 Ontario CA
2010 Bad Dads San Francisco CA
2010 Manifest Equality Group show: Los Angeles CA
2010 Ingloriuous Basterds Lost Art Benefit for Haiti group show: CA
2009 Juxtapoz Anniversary Auction: Los Angeles CA group show
2009 Portland Oregon "Dream Beautiful And Unusual" Solo Show
2009 Sea No Evil Art Show
2009 Heavy Hitters: Maryland
2009 Tampa FL, Czar's Imperial Theatre, Back in Black2 group show
2009 Congregation Gallery, Hollywood, CA. group show
2009 Gnoman Gallery, The Art of Sketch Theatre
2009 Manifest Hope DC Gallery group show
2008 Back in Black Group Exhibition
2008 FIFTY24SA Gallery, Seattle, Group Show
2008 FIFTY24LA Gallery, New Works by Patrick Martinez and Munk One
2008 SUBTEXT, Beasts of Burdon, Vinyl Toy Group Show
2008 Heavy Hitters, Manila Group Show
2008 ISM Gallery, Grand Opening Group Show
2008 Minna Gallery, 20×20 January Group show
2008 Space Gallery SF, My Vice Group Show
2007 Versus Gallery, Revenge of the Empire group art show
2007 Foundation One Gallery GA, The Grind group art show
2007 Las Vegas NV, GM/Jada Toys Kulture Klash Custom art show
2007 Crewest Gallery, Top Of the Dome 4 group show
2007 Minna Gallery S.F., Fighting for dreams group show
2007 Agesong Gallery S.F., Heavy Hitters group show
2007 Los Angeles Crash Mansion, Panthaland group show
2007 Thinkspace Gallery, ISM Untitled Love Project
2007 OCCCA GALLERY, ISM Untitled Love Project
2007 MF Gallery NYC, Zombies Attack
2007 URB Gallery, Represent,Represent! Tempt One Art Benefit
2007 Crewest Gallery, Canceptual Art show V.2
2007 Lost Souls Cafe, Make Believe group art show
2007 Las Vegas NV, Hit The Deck skateboard show
2006 Crewest Gallery, Top of the dome 2 group show
2006 ISM White Elephant Show
2006 Orange County County Museum of Art, Little Squares Project
2006 Las Vegas Arts Factory, Malicious Vinyl Group Show
2006 Crux Gallery, The Red Show
2005 Fulcrum Records Gallery, Vinyl Show
2005 Crux Gallery, Door Show
2005 Crux Gallery, Group Show
2004 Self Help Graphics, Day of the Dead Celebration Group Show
2004 Coba, Mini Board Group Show
2003 Artistic Insomniacs, Group Show
DEDICATION: This site is dedicated my parents and my number one fans, Celestino and Nidia Mercado. Thank you for your lasting support, confidence and interest in my Artwork over the years. It has not gone unnoticed.

Pastel painting by my Father circa 1975.
To my Family, Friends, Clients and anyone who has ever taken a chance on me. Thank you for helping me become who I am today.
Eternally,
MUNK ONE